Dear all
I know I've mentioned this before, but it's the end of a course and you think that's it! But, alas, it's not. It's such a shame that we don't have any footage of O' Sensei (if anyone does, please, please, put it on YouTube!!). Anyway, you know the drill, you've just checked the clock and there's about half an hour left to go.
Then O' Sensei yells his trademark "AhhhhYammaaaaaeeeee!!". All thoughts of finishing early are soon quashed as he gets you all into lines. It's at this point that video footage would be great, those first two fingers on his right hand start twitching. Now, I'm no body language expert, but I know that spells trouble and he's dreaming up his renowned exercises.
First you begin with the usual press-ups which turn into back-of-hand press-ups followed by thumbs together, there are no 'knuckle press-ups' as we are in 'The Combat Room' in Huddersfield as Sensei Dave Allen's guests. The Combat Room is totally matted even up to about 4ft up the wall, so knuckle press-ups would be too easy.
Then it's press-ups with legs inter-locked, then sit-ups...anyway, you know the score. There really was NO escape when he had you in the Combat Room, mind you, saying that, there was never any escape, anywhere!
The photos show Sensei pacing up and down and I know it's a photo, but I'm sure you can see those fingers 'twitching'.
In the background is my dear friend and Sensei, Arnie Bestwick. Out of view are the students and Black Belts alike grunting and groaning under that watchful eye.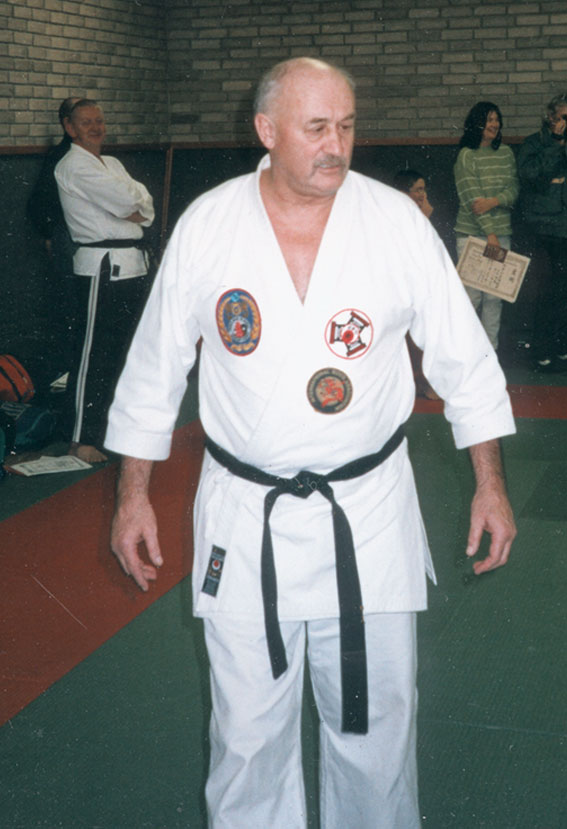 The Combat Room, late 90's O' Sensei Phil Milner keeps an eye on the end of course 'festivities' as Sensei Arnie Bestwick watches.
Yours in Budo
Ninj
Last edited by Ninj on Thu Nov 20, 2008 6:31 am; edited 2 times in total (Reason for editing : text change)
Dear Dave/ninj,
Actually Phil gave me the original copy of the Documentary film that "Hull college of Arts" made in the seventies. it is about 45minutes long and in Black and white.
Shows Phil teaching, long interview, me teaching Nunchaku, John Robinson beating up the students, Frank Hayes etc.
Unfortunately it is in the old 16mm film format and in a great big round film tin.
If anyone in the I.B.A. has the skill and technology to transfer this format onto CD, then please contact me.
Regards Josh.



Posts

: 95


Join date

: 2008-05-08


Location

: Wakefield West Yorkshire



Dear Josh

That sounds great! I'm sure someone out there will no of someone who can transfer it to DVD. It would be great to have it on YouTube and maybe even to sell to IBA members to raise funds.

Best wishes

Dave
Dear Mike,
Thank you for that, Please check out the company and the cost etc for me and if it is feasable we can go ahead and transfer it.
More pictures on the I.B.A, Web site www.iba.eu.com in the gallery, recent editions.
Best Regards
Josh.



Posts

: 95


Join date

: 2008-05-08


Location

: Wakefield West Yorkshire



Dear Josh

Great new pictures on the IBA website, although the one with Steve Costello is not the young me (very similar though) I think it's 'Tish'. Many thanks to Mike again and to you all for these superb pictures.

It would be so nice to see all these in print in an biography of Phil. He really was a 'treasure' that is being uncovered more and more by you fantastic forum people. It really is greatly appreciated!

I look forward to seeing you all on the next IBA course.

Take care all.

Best wishes,

Dave
---
Permissions in this forum:
You
cannot
reply to topics in this forum