Dave, here's a picture of Phil in referee mode, either awarding me Ippon or disqualifying me, can't remember which, seem to remember that I came in silver medal place so the other guy (Jed) must have recovered and won. in the background is Mr Graham Morley either cheering me on or shouting abuse, probably the latter knowing Graham.
Regards Josh.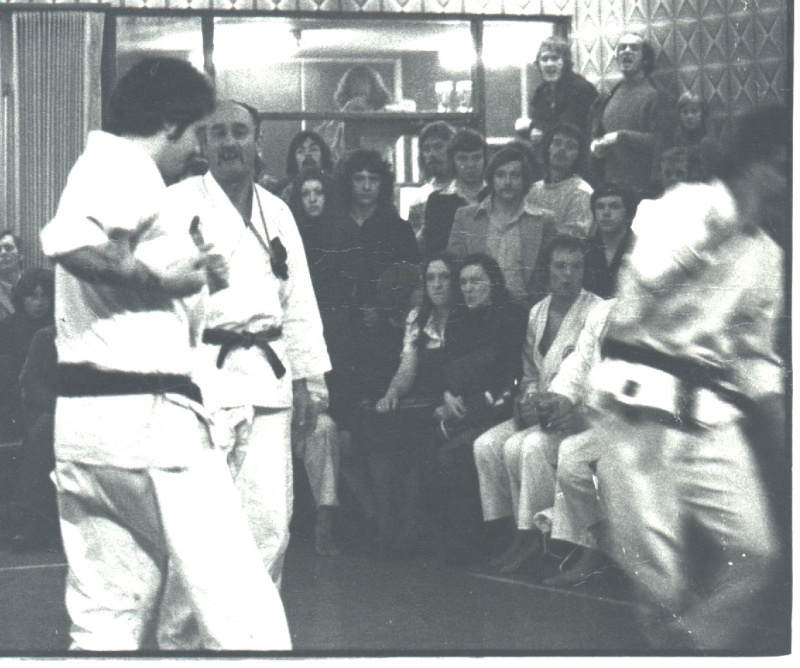 Posts

: 95


Join date

: 2008-05-08


Location

: Wakefield West Yorkshire



Hi Josh

Brilliant!! Looks like a Working Mens Club. I've been to a few IBA Tournaments and they always seemed to be held in the function rooms above pubs.

He was a hard taskmaster when he was refereeing, you felt like your opponent had to be carried off on stretcher before Phil would award a wazari. The last IBA tournament I went to, Phil actually yanked off the official ref and did it himself. It was carnage and he just stood there chuckling as the techniques went flying in.

God, I hate tournaments. From early days I always remember spending the entire day warming up, s******g yourself only to be put up against a guy 3ft taller than you - and wallop - in a split second he's executed a mawashigeri without hardly raising his leg - and you're out! Still it was always good fun when he used to bring Jill along and she would shout and cheer.

Regards

Dave



Posts

: 149


Join date

: 2008-03-19


Location

: Worksop Hi-Ryu-Kan



I remember being at a competition in Bradford around 1974, when a small Indian guy who was refereeing was realy getting up Phils nose, in the end Phil picked him up and in front of everyone theatened to stuff him in a drawer, believe this was the end of this chaps refereeing career, well if Phil was around anyway, happy days, Ken



Posts

: 29


Join date

: 2008-03-19



I remember the North of England Karate Tournament (1973) being held at ... er, no, I can't remember...... but anyway, Tatsou Suzukie turned up with his team who subsequently took everyone else to pieces (can't remember if Phil was there or not). I was 16 and won my first fight but in the next I was drawn against an heavyweight adult who kicked me up and down the floor at his leisure.

Those were the days without gloves, eh!



Posts

: 45


Join date

: 2008-06-19


Location

: Castleford, West Yorkshire



---
Permissions in this forum:
You
cannot
reply to topics in this forum