Good Morning everyone, many thanks to everyone who attended the 2009 Memorial course, special thanks to Dave Slaney and Dave Fletcher who were the excellent Host's and provided the venue once again, to Christine and Anita who dealt efficiently with all the administration on the day
All our European and U.K. Instructors who gave us their skill and enthusiasm to make the day enjoyable and successful.
We welcomed for the first time Sensei Dave Treadwell and his students from the Furi Sutairu Karate Association and the old Milners Marauders who turned up, John Bestwick, Steve Barrass, and Mike Sanderson, it was also nice to talk to O-Sensei's youngest son Danny Milner.
Thank you all once again and I look forward to seeing you all at the next course in October.
Yours in Bushido
Josh.



Posts

: 95


Join date

: 2008-05-08


Location

: Wakefield West Yorkshire



Dear Josh
Many thanks, it was a pleasure to have you all in Worksop on the superb Memorial Course. Here are a couple of photos courtesy of Josh Johnson Hanshi.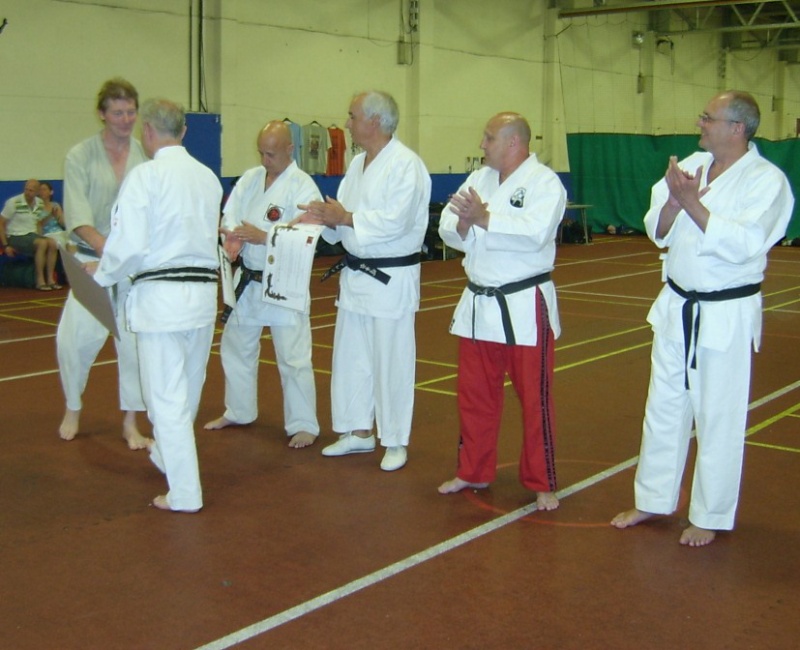 Sensei Graham Ravey receiving his 7th Dan from Josh Johnson Hanshi. Left to right: Jean-Pierre Vignau, Alan Thιvoz, Tony Baker and Ken Witham.
The attending Instructors and students at the memorial Course.
The Masters themselves...Left to right: Jean-Pierre Vignau, Tony Baker, Dave Allen, Ken Witham, Josh Johnson, Graham Ravey, Alain Hoffman, Jacquy Binda and Alain Thιvoz.
Hi all

Had a good time on Sunday, i only managed part of a session due to my hip problems(very fustrating only two years ago i was fine!!) but i enjoyed the company and seeing some old faces i recognised! it was great to see Arnies brother John whom i took my dan grade over 30 years ago!! and Dave, the man who, if he had not created this forum. i would not have been there. Many thanks to you all hope to see you all on the next course.

Mike
Hi Karajutsu

It was a pleasure meeting you on Sunday and I'm so glad the Forum got you back into training. It was nice to see John on Sunday too.

You make friends in the IBA and they are friends for life, bonded in Budo and all sons and daughters of our spiritual father O' Sensei Milner.

Best wishes

Dave
Hi Dave

If you can send me your training nights and times i will see if i can come over to train with you guys and may be share some tecniques with you !

Mike
Hi Mike
It would be great to have you over to our club, we train Tuesdays 6.30 - 7.30pm and Fridays 6.30pm - 8.00pm at the St. Annes Scout HQ, Spring Walk, Worksop, Notts.
You would be more than welcome.
Best wishes
Dave
PS: Sadly Mike the DVD you kindly gave me didn't work

Thanks anyway

Hi Dave
tues nights look good i will try and get over some time in the near future.
sorry about the dvd it works on my lap top ok, i will try to get it copied again in a diferent format.
Mike
A master in action !!
Hi all
Here is some very kind feedback from our guests at the Memorial Course and some photos courtesy of Sensei Graham Ravey and Kana, words kindly supplied by Josh Johnson...
Hi Josh,
It was really nice to catch up with you and the guys. Here are some photographs which Kana took. I am not sure if you want to use them. I guess you have many already sent to you.
I didn't expect any expences after all you allowed us to have a stall.
I hope we can get together again sometime and have a training session. I enjoyed working out with your students. They show good spirit and a passion for learning.
Osu,
Graham………………………………………………………………………………………………
Sensei,
thank you for your welcome to you and we keep alain, christine and me an excellent memory of this stage my best wishes to your club and congratulations from us yet merηi.
Jacquy Binda………………………………………………………………………………………………
Hello Josh,
I had a very good trip back thank you.
I would like also thank you very much for your hospitality, for me it was a very good experience to meet all this people, very sympatique and friendly.
I like also that this course was not too formal and I enjoyed it very much.
I hope to see you one day in Geneva, don't forget, I you want to spend some holidays in mountain, we have a flat in a chalet and we will be happy to lend it to you.
Chalet in the mountain (Les Carroz France)
Best regards
Alain Thιvoz.………………………………………………………………………………………………
Hi Josh,
I would just like to say thank you for a excellent training session today in worksop this is the 1st time i have attended with 2 of my students and was made welcome from all that took part
I teach and train in shotokan but it is a great way to see different styles and concepts on training so thanks again also to all sensei that took the time to teach and it is great to see all students getting a cert from the day that is signed but all sensei
I can only hold this type of seminar with high regard and will pass this on to all my students.
I would love to attend all sessions as and when they are available as i thought the short journey was well worth it
please could you forward all details to me as and when events come up
Thanks Again
Dave Treadwell,
Furi-Sutairu Shotokan Karate.
We will be attending all courses in the future.………………………………………………………………………………………………
Dear President,
We had a wonderful W E with you and Christine and the friends.
The way back also no problem.
We are safe and well
One more many thank all of you.
Now i have to work
Just one think i dont find any picture ? may be i am not on the good way
Could you please send me some by mail to me.
Regards
Alain Hoffman.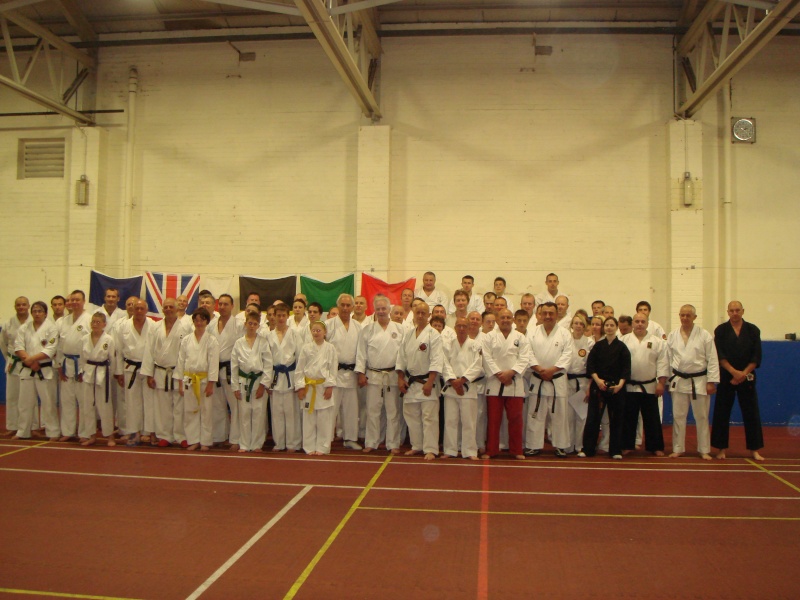 ---
Permissions in this forum:
You
cannot
reply to topics in this forum