Hi everyone
Just a big thank you to all who attended todays Memorial Course to celebrate the Senseis we have lost.
I'd like to add a big thank you to Josh and Christine who again have shown that 'Midas Touch' with every course. It was an honour and pleasure to train with you all today. Making new friends and seeing old friends alike.
Great to see our foreign friends recognised within our associations and the awesome Graham Ravey finally get his LONG overdue 7th Dan. The late great Phil awarded me my 7th Dan in 1999 and I was very grateful, but I must say when I have been in the company of Graham who until today was a 6th Dan, I have felt very, very humble. He is an incredible Martial Artist and person. A true champion of the Martial Arts. Much like our beloved President Josh.
I have trained with Graham a number of occasions at Ken Witham's club in Kiveton (Ken - a true gentleman if ever there was one). Every session has been hard and painful but so, SO worthwhile.
I'm nursing battered arms after the 'Ude Tanren' but I wouldn't change it for the world.
I really and truly feel part of a family with the IBA along with the Josh's association, Zanshin and TOGKA and many others. May the true spirit of Budo and brotherhood AND sisterhood continue.
Thank you all again and I hope to see you all at the next course in October.
Live long, train hard, train happy and keep our lost Senseis memory alive.
The deepest respect to you all and best wishes for today tomorrow and the future.
Yours in Budo
Dave Slaney
PS Lovely to meet 'Karajutsu' at last. Yet another lovely bloke and a new friend!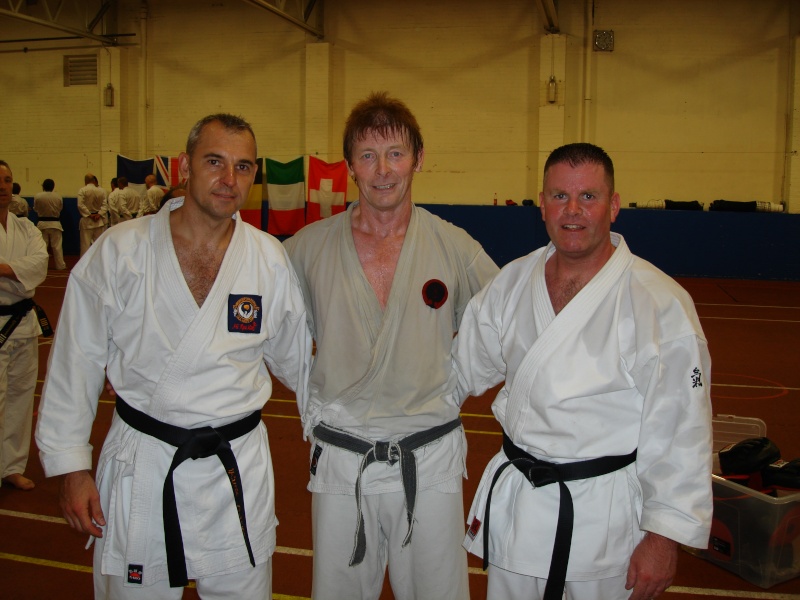 Last edited by Ninj on Mon Jul 06, 2009 3:25 am; edited 1 time in total (Reason for editing : Adding picture)



Posts

: 149


Join date

: 2008-03-19


Location

: Worksop Hi-Ryu-Kan



Hi Ninj

That's what i was going to say!

Being serious for a minute though, as ever it's a previlage and honour to be in the company i was in yesterday (you're included in that by the way), and to second the thankyou to Josh and Christine for helping us out.

It's fantastic belonging to the IBA and having relations with other associations where we can come together as a Martial Arts family and meet and train under great Martial Artists from around the world.
All at the same time remembering our lost Sensei's who we were all very close to, and keeping their history alive.
Well done Josh.

See you all in October

Best Regards

Dave



Posts

: 12


Join date

: 2008-07-08


Age

: 49


Location

: Worksop



Hi Dave

The feeling's mutual mate. I'm so proud of my two great friends, yourself and Shaun, whom I might add took great delight in watching us suffer. In all that heat, wearing a canvas suit while being made to feel rather sluggish by a very, very agile and nimble Jacquy Binda. Wow can he move!

It was great, there was Dave and I warming up and he told me that one of the Instructors had asked to borrow his shin pads.

My heart sank. "Oh God, shinwork" I thought and as mine are made of glass I was a tad worried. Mind you, Dave bless him said, "Well whatever we're doing, I'm on a loser from the off! He's got my shinpads".

As it turned out we were doing sparring techniques, oh and press-ups. Oh, I've lost the thread of my story a little. Where was I? Oh yes, all this while Shaun sat there grinning in shorts and t-shirts!

A truly great day. No bullies, no egos, no people strutting around 'demanding' respect. Just true Martial Artists, eager and happy to learn from some truly great teachers.

Osu!

Dave



Posts

: 149


Join date

: 2008-03-19


Location

: Worksop Hi-Ryu-Kan



---
Permissions in this forum:
You
cannot
reply to topics in this forum